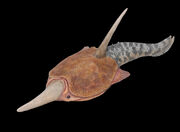 Pteraspis
 had a protective armored plating covering the front of its body. Though lacking fins other than its lobed tail, it is thought to have been a good swimmer thanks to stiff, wing-like protrusions derived from the armoured plates over its gills. This, along with the horn-like rostrum, made 
Pteraspis
 very streamlined in shape; a perfect quality for a good swimmer. 
Pteraspis
 also had some stiff spikes on its back, possibly an additional form of protection against predators. It is thought to have fed from shoals of plankton just under the ocean surface.
Ad blocker interference detected!
Wikia is a free-to-use site that makes money from advertising. We have a modified experience for viewers using ad blockers

Wikia is not accessible if you've made further modifications. Remove the custom ad blocker rule(s) and the page will load as expected.