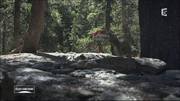 Monolophosaurus
 was a genus of theropod dinosaur which lived during the middle Jurassic period in what is now China. The peculiarity of carnivorous dinosaurs, cousin of the dilophosaurus and ceratosaurus, carries a crest along its upper jaw. It feeds on small dinosaurs, pterosaurs and fish.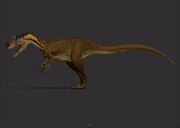 Monolophosaurus was originally supposed to appear in Dinosaur Revolution but was ultimately cut.
https://www.facebook.com/davidkrentzart/videos/413829268753588/
Ad blocker interference detected!
Wikia is a free-to-use site that makes money from advertising. We have a modified experience for viewers using ad blockers

Wikia is not accessible if you've made further modifications. Remove the custom ad blocker rule(s) and the page will load as expected.