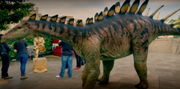 Dacentrurus was a large stegosaurid. Some specimens have been estimated to reach lengths between 7–8 m and to weigh up to 5 t. Although Dacentrurus is considered to have the same proportions as Stegosaurus, its plate and spike configuration is known to be rather different, as it probably had both two rows of small plates on its neck and two rows of longer spikes along its tail. The tail spike had sharp cutting edges on its front and rear side.
Ad blocker interference detected!
Wikia is a free-to-use site that makes money from advertising. We have a modified experience for viewers using ad blockers

Wikia is not accessible if you've made further modifications. Remove the custom ad blocker rule(s) and the page will load as expected.