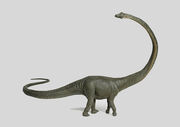 Barosaurus is a large sauropod from North America.  It was a herbivore that ate low plants like
Diplodocus
.  It is closely related to Diplodocus and part of North America's big six sauropods, which includes
Brachiosaurus
, Diplodocus,
Apatosaurus
,
Camarasaurus
and Haplocanthosaurus. The most famous fossil of Barosaurus is a complete skeleton from Royal Ontario Museum also known as the ROM.  Is Gordo.  Its skeleton was locked up in old storage until the museum had a up-grade and decided to take it out on display.
Ad blocker interference detected!
Wikia is a free-to-use site that makes money from advertising. We have a modified experience for viewers using ad blockers

Wikia is not accessible if you've made further modifications. Remove the custom ad blocker rule(s) and the page will load as expected.