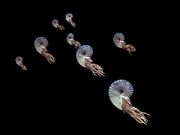 Ammonite is a succesful species of mollusk that lived in the age of the dinosaur.  It swam the seas with large predatory creatures live Mosasaurs, Plesiosaurus and Ichthyosaurs.  It ate fish, and other small creatures.  It lived in all over the world.  It had tentacles that can snatch prey from the ocean.  Today its living decendents still live on, now it is the Nautilus.
Ad blocker interference detected!
Wikia is a free-to-use site that makes money from advertising. We have a modified experience for viewers using ad blockers

Wikia is not accessible if you've made further modifications. Remove the custom ad blocker rule(s) and the page will load as expected.